September 27, 2018
The week ahead
posted Sep 23, 2018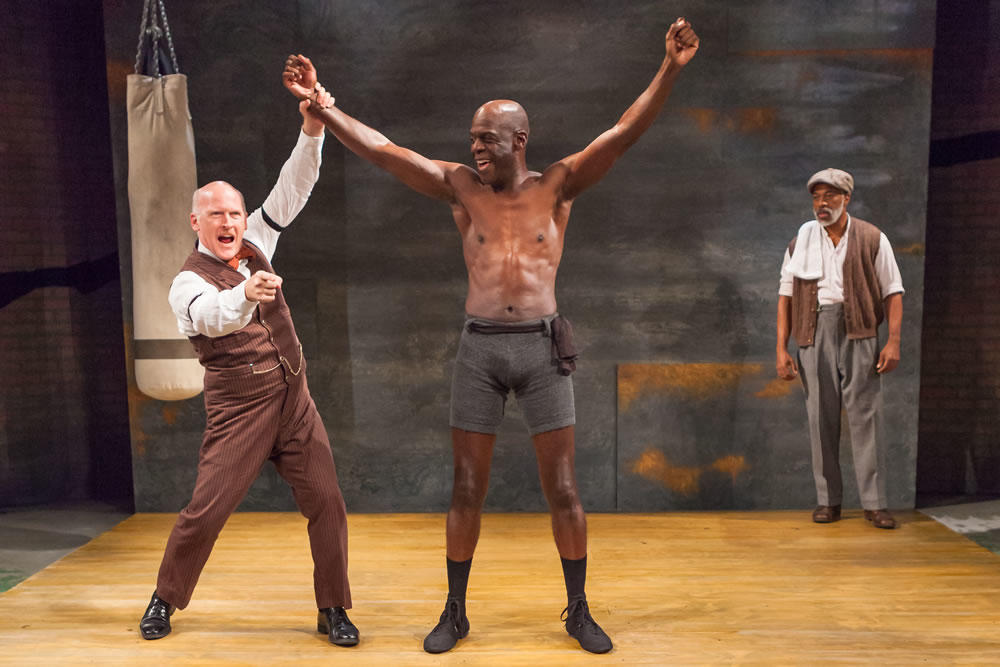 Here are a few things to keep in mind, look forward to, or keep busy with this week, from the weather (autumn), to hauntings, to the stage, to science, to books, to all sorts of music…
Weather
Here's the paraphrased forecast for this week:
Monday: Sunny and 66.
Tuesday: Rain, maybe a thunderstorm. Mid 60s.
Wednesday: Rain, mid 70s.
Thursday: Sun and 68.
Friday: Some sun, maybe some rain, upper 60s.
It really is autumn.
Capitol Hauntings
Monday-Saturday: The popular Capitol Hauntings tours have started up for the season at the state Capitol. "The tour lasts about an hour, but the chilling, ghostly tales might haunt you forever." Monday-Friday 1 pm and 5:30 pm / Saturday 1 pm — free (but you must make a reservation and they fill up)
New Scotland Ave Restaurant Week
Monday-Sunday: The first New Scotland Ave Restaurant Week will include a variety of discounts and specials at restaurants along the commercial strip in Albany's Helderberg neighborhood. Nine establishments are participating.
Stage
The Royale
Tuesday-Sunday: The Rep opens its production of The Royale. (It was in previews this past weekend.) Show blurbage:
Jay "The Sport" Jackson needs one more win to become heavyweight champion of the world, but in the Jim Crow reality of 1905 America, his greatest opponent may not be in the ring. Inspired by the true story of trailblazing boxer Jack Johnson, The Royale bristles with the thrilling rapid-fire dialogue and rhythmic punctuation of playwright Marco Ramirez (Netflix's Daredevil, Orange is the New Black). This powerhouse of a play brings to explosive life the ultimate fight for a man's place in history and packs a punch that will leave you breathless.
Tuesday's opening-night show includes a post-show reception. Tuesday-Sunday various times — $20 and up
Arts and sciences
Get Up, Stand Up: Rights and Responsibilities of Citizenship
Monday: The Accelerator Series at The Tang at Skidmore will have a discussion about citizenship. "Join Tang Curator-at-Large Isolde Brielmaier as she moderates a discussion about the varied ways in which we conceive of citizenship and the rights and responsibilities we believe citizenship may or may not encompass. Panelists include artist Sam Durant, whose work will be on view in the Tang exhibition Give a damn.; artist and For Freedoms cofounder Eric Gottesman; and Skidmore Assistant Professor of Marketing, Management, and Business Minita Sanghvi." Monday 6:30 pm — free
Science on Tap
Tuesday: The Science on Tap series is at the Albany Pump Station. UAlbany neuroscientist Ewan McNay has a talk titled "Alzheimer's is brain diabetes – or, how to save your brain by going to the gym." Tuesday 7 pm — free admission
Sharon Bates
Tuesday: Sharon Bates will be at the Opalka Gallery on the Sage Albany campus to talk about her work and the exhibit that's currently on display, Sharon Bates: Exhibit B. Tuesday 6:30 pm — free
Schenectady Suds
Wednesday: The Schenectady County Historical Society's "Schenectady Suds" tour is back. "Join us for a night of fun history, good company and great beer! We'll stroll through the Historic Stockade District, traveling from the colonial past to the craft-brew present. Includes a a complimentary pint and an exclusive behind-the-scenes look at the Mad Jack Brewery led by the brewers themselves." Wednesday 6 pm — $15
Silent Sky
Thursday: CapSci, miSci, and the Dudley Observatory are teaming up for a staged reading of Silent Sky at miSci in Schenectady. "Blending science, humor, and romance, "Silent Sky" tells the compelling, true story of celebrated astronomer Henrietta Swan Leavitt and her fellow female colleagues at the Harvard Observatory, and how they rose above the male-driven, turn-of-the-century world of science to make their way into history." After the reading the Dudley Observatory's new 14″ Schmidt-Cassegranian telescope will be open for stargazing. Thursday 7 pm — free with museum admission
Screen
National Theatre: Julie
Monday and Wednesday: Proctors will be showing the filmed version of the National Theatre production of Julie starring Vanessa Kirby and Eric Kofi Abrefa. "Wild and newly single, Julie throws a late night party. In the kitchen, Jean and Kristina clean up as the celebration heaves above them. Crossing the threshold, Julie initiates a power game with Jean – which rapidly descends into a savage fight for survival." Monday 2 pm, Wednesday 7 pm — $15
Joan Jett: Bad Reputation
Wednesday: The It Came From Schenectady at Proctors is has an advance screening of the Joan Jett documentary Bad Reputation in the The Addy. Wednesday 7 pm — $9 / $6 students and seniors
Looking ahead to the weekend
A heads up for the weekend: The first (very big) Albany Book Festival will be at UAlbanySaturday. And Friday evening the new state author and state poet — Colson Whitehead and Alicia Ostriker, respectively — will be inaugurated in a public event at UAlbany.
Music

Tuesday: Park Jiha at EMPAC
"The music of composer/performer Park Jiha blends classical minimalism and improvised music with traditional Korean instruments like the piri (double-reed bamboo flute), saenghwang (bamboo mouth organ), and yanggeum (hammered dulcimer)." 7:30 pm — $18
Wednesday: Delgrés at Sanctuary for Independent Media
"Delgrés is a deep roots trio that blends French Caribbean and New Orleans' musical styles for an all-new sound." Wednesday 7 pm — $20
Wednesday: Hamell on Trial at The Low
Last night of September residency. 7 pm
Thursday: The High Kings at The Egg
Irish ballads. 7:30 pm — $34.50 and up
Thursday: 1964: The Tribute at Troy Music Hall
Beatles tribute. 7:30 pm — $29 and up
Thursday: Dwayne Dopsie & The Zydeco Hell Raisers at The Linda
"Although inspired by tradition, Dwayne has developed his own high energy style that defies existing stereotypes and blazes a refreshingly distinct path for 21st century Zydeco music." 8 pm — $20
Thursday: Amy Helm at Cohoes Music Hall
Singer/songwriter. With: The National Reserve. 8 pm — $25 and up
Friday: Sepiatonic at The Hollow
"Sepiatonic is a vaudeville-inspired dance and music experience. We feature original live and electronic music, focusing on electro-swing, but extending out into further realms of balkan beats, hip-hop, funk, and more." 9 pm — $15 ahead / $18 at door
Saturday: Zac Brown Band at SPAC
Country star. 7 pm — $35 and up
Saturday: Juice WRLD at The Palace
Hip hop. With: Lil TJay and Johnny2Phones. 8 pm — $37.50 and up
Saturday: Angel Olsen at MASS MoCA
"Shut up, kiss me, hold me tight." With: Julianna Barwick. 8 pm — $30 ahead
Saturday: John Vanderslice at Opalka Gallery
A living room show (so to speak). 8 pm — $20
Saturday: Over The Rhine at The Egg
Americana. (Named after a neighborhood in Cincinnati.) 8 pm — $29.50
Saturday: The Weepies at Troy Music Hall
Acoustic show. 8 pm — $29
Saturday: Milky Chance at Upstate Concert Hall
Alt folk rock. With: Jeremy Loops. 8 pm — $30 ahead / $33 day of
Saturday: Time for Three at Caffe Lena
"The groundbreaking, category-shattering trio Time for Three (Tf3) transcends traditional classification, with elements of classical, country western, gypsy and jazz idioms forming a blend all its own." 8 pm — $35
Saturday: Lara Hope and The Ark-Tones
Rockabilly. 8 pm — $15
Saturday: Formula 5 at The Hollow
Jam. With: Bird Jazz, Swimmer. 8 pm — $12
Saturday: Groovestick at Parish Public House
Album release show. With: Victory Soul Orchestra. 8 pm — $10 ahead / $13 day of
Sunday: The Struts at Upstate Concert
Alt rock. With: White Reaper, Spirit Animal. 7:30 pm — $19 ahead / $24 day of
Sunday: Dylan Perillo Orchestra at Caffe Lena
"The 12-piece group sounds like a big band straight out of the 1920s, yet handles jazz classics with a freshness that makes the listener believe they just wrote this material yesterday." 7 pm — $22
____
These are a just a few things for this week, not a comprehensive list. Look for out "Stuff to do this weekend" list for the upcoming weekend on Friday.
Know of something people should be looking forward to this week? Please share!